A Transparent View of Agriculture
The Glass Barn
Our favorite projects involve taking educational content and making it understandable, interactive, and fun. Museum EXP recently led an exhibit renovation for the Indiana Soybean Alliance that allowed us to create engaging experiences that reinforce important information about agriculture in a fun way—plus we were able to include a few soybean puns. To fit ISA's budget cycle, we divided the project scope into multiple phases to spread the work over several fiscal years, allowing for a new crop of experiences with each season (see… we really enjoy puns!).

Updating an Existing Experience
ISA came to us in 2020 looking to refresh their existing experience they launched in 2013. Unfortunately there were a lot of ongoing maintenance issues and they were looking for a fresh, impactful, and more interactive way of communicating their messaging to visitors. We had many conversations to understand their goals and audience, and put together an interpretive plan, exhibit concepts, and a proposed budget to effectively execute their vision. Through our meetings, we worked with the ISA team to prioritize content and discussed how we could effectively divide up the renovation work and take advantage of multiple "unveiling" opportunities.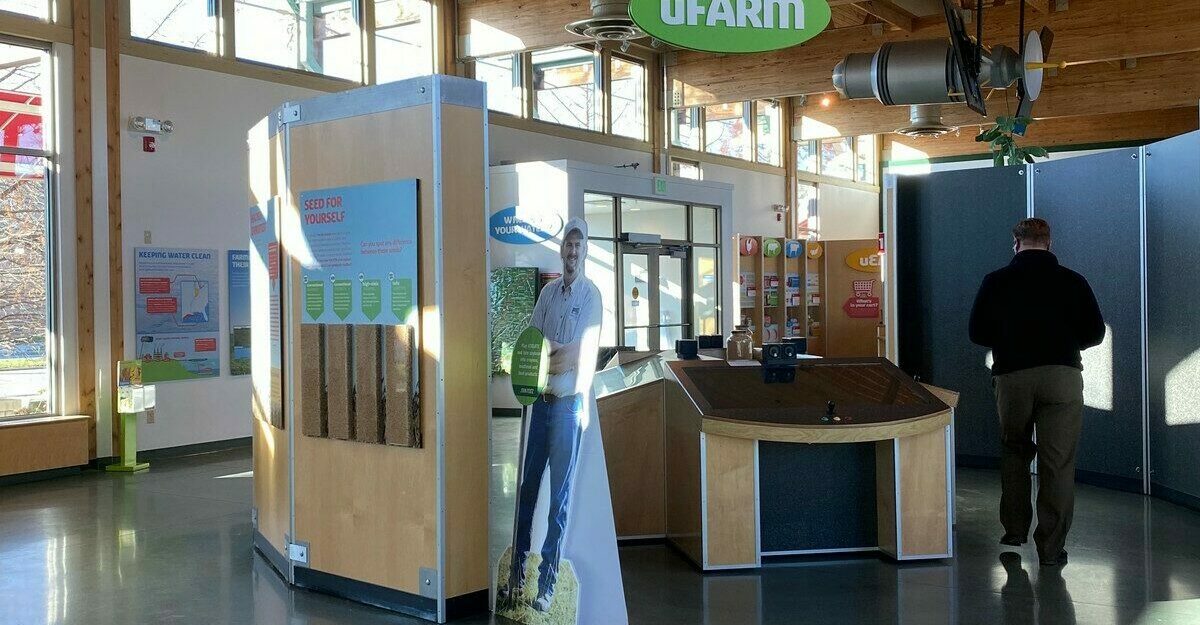 A Multi-Phased Approach
Year One (2020-2021) included a refresh of the overall space with an updated color palette, fresh content, and a more modern graphic design. ISA was eager to make a big splash with the renovation, so we created a unique hands-on experience where visitors can experience driving a full-sized combine harvester. At 13 feet tall, the exhibit had to be brought through the doors in pieces to get it inside the building. The experience proved even more popular than we had expected, so we were glad we designed the experience to maximize throughput. We also included a duplicate ADA experience at ground level that was more accessible and gave even more visitors a chance to sit at the steering wheel and participate in harvest season.
More Interactivity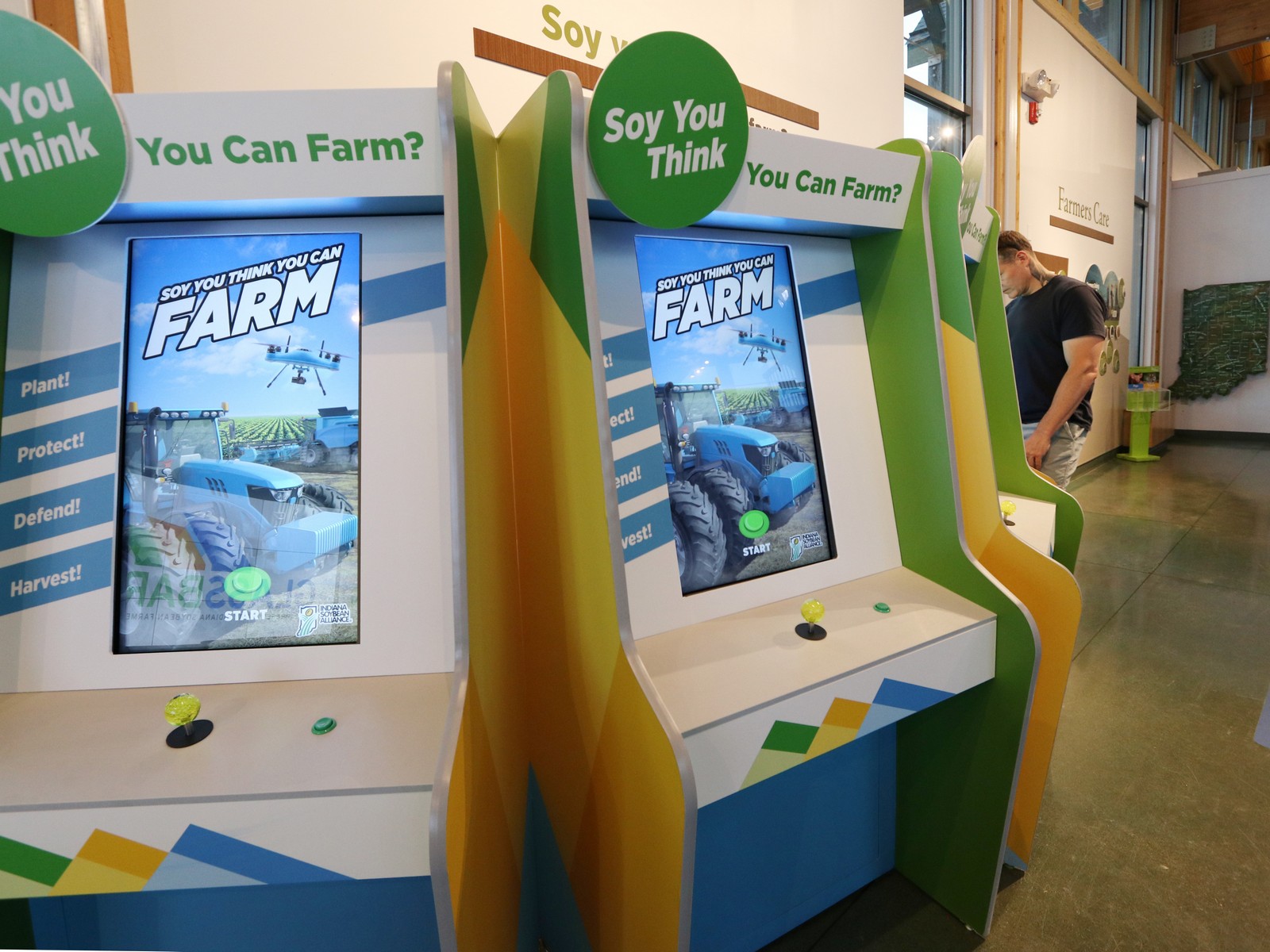 Year Two (2021-2022) of renovations at the Glass Barn was focused on adding even more multi-generational interactive experiences. We added ten new interactive stations including "Soy You Think You Can Farm?" an arcade-style farming game (also available to play online), "Soy Market Spree" a fast-paced shopping game using physical product boxes and RFID technology, a Biofuel Station, and a fun grocery product reveal using smart window tint. These new experiences are not only more engaging than the exhibits they replaced, but they also increase the number of visitors that can participate and learn about agriculture. In addition to new exhibits, we also produced 15 incredible video segments that enable visitors to learn about agriculture directly from local farmers and agriculture experts. To round out the experience, we installed a new ultra-high-definition video wall and a renovated theater space to showcase the videos and live farmer interaction.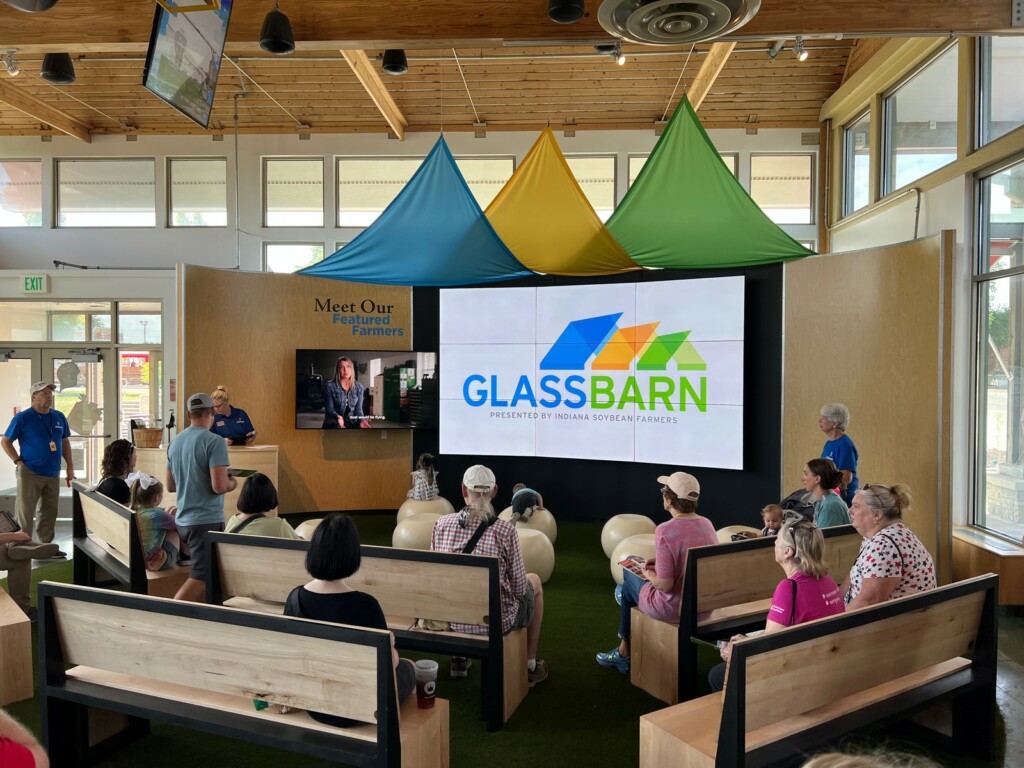 Assembling a Custom Team
Each of our projects are unique, so we always assemble an experienced team for the project based on the specific skills needed. For this project, we developed new relationships with several local vendors so that the client would have easy ongoing support. Because the Indiana Soybean Alliance team is small but mighty, they don't have a dedicated maintenance staff. Having a local partner available for ongoing maintenance was important, but we also designed all of the experiences for easy reboots for their volunteers. We also brought in a few team members we've worked with on previous projects. The success of this project is a result of the talent and hard work of our project team and a great collaborative relationship with the Indiana Soybean Alliance.
More to Come
You can check out these exhibits for yourself at the Glass Barn at the Indiana State Fairgrounds. More than 96,000 people visited the Glass Barn during the Indiana State Fair this year, and many more will visit with K-12 school groups and for special events. As for what we have in store for next year's renovation, you'll have to wait and see!
Thank You to Our Collaborators
2022 Project Team
Crabby Badger Studios
Sheri Doyle
Jamie DeRuyter
Exhibits Geek
Additional 2021 Collaborators