Crayola IDEAworks: The Creativity Exhibition premiered at The Franklin Institute
We're proud to announce that Crayola IDEAworks: The Creativity Exhibition premiered on February 13th at The Franklin Institute in Philadelphia, PA. The first stop on a five-year North American tour, this exhibition embraces creative problem solving in a gamified and personalized way.
So, what role did Museum EXP play in the development of this experience? Museum EXP served as the Creative Producer contracted by Agency808 and Innov8tive Exhibitions to leverage the Crayola brand for the museum market. As the demands of each project vary, our role as the Creative Producer role evolves to fit the needs of the project. For this project we wore many hats—working as the project manager, IP license liaison, AV technical coordinator, interactive developer, production manager, and head cheerleader. Throughout this 15-month project, we kept our ship on course and proudly opened the exhibition on schedule—despite the challenges the global pandemic threw our way.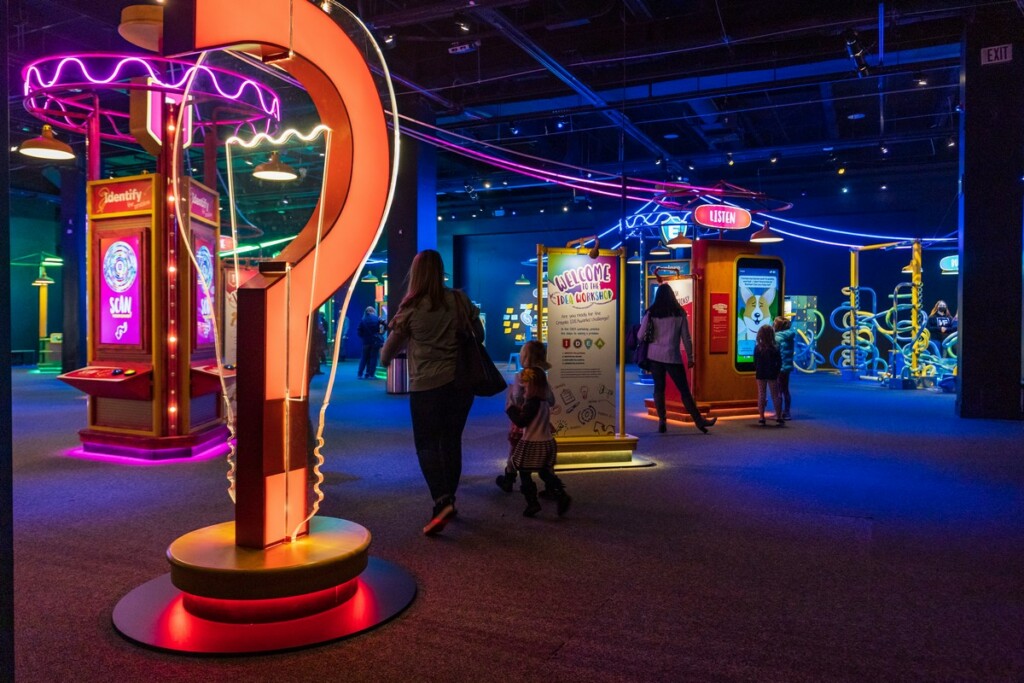 Our work began in the "before times" when we organized and facilitated a creative charette in November 2019. Little did we know how the coming months would unfold and that this would be our only face-to-face meeting as a team. During this critical meeting, our team laid the foundation for the experience and together formed the core of the concept. We find that this initial meeting is critical to the success of a project of this scope. During this time, our teams were able to level-set on the experience, but also form bonds that will help contribute to effective communication and collaboration—critical to the success of our creative team.
Early on in any project, just as we did with Crayola IDEAworks, we want to ensure that our team is communicating effectively, working within the parameters set by the Executive Producer, and all swimming in a forward direction. As this project was licensed by Crayola, we had an additional layer of complexity working with the Crayola team to present their brand in a new, fun, and creative way, while also staking a position in the museum market. In many ways, the Crayola approvals drove the project schedule, as it would with any IP-based project. This was our critical path to opening day. The Crayola team is very detailed oriented and was involved in every step of the project from concept to launch. This participation presented a few opportunities and required a lot of coordination, but ultimately resulted in a high-quality collaboration and final product that met the expectations of Crayola and museum visitors.
Producing an exhibition of this scale presented a lot of opportunities to deploy creative thinking during this global pandemic. Did we mention that everything relating to this project aside from the installation, was done remotely? To move things forward effectively and efficiently, we had to capture project details in multiple ways for our many team members. Creative meetings took many forms and we had to employ all the tools in our toolbox—from sketches and wireframes to detailed experience outlines and live reviews on zoom. Our prototyping process also took many different forms, including many calls on our personal social media pages to test our activities—thank you friends for all your amazing feedback over the past year!
In all, we are incredibly proud of this exhibition and are pleased with the public response we're seeing at The Franklin Institute. Stay tuned for more detailed posts about different phases of this project, which we will present as case studies in the coming weeks!